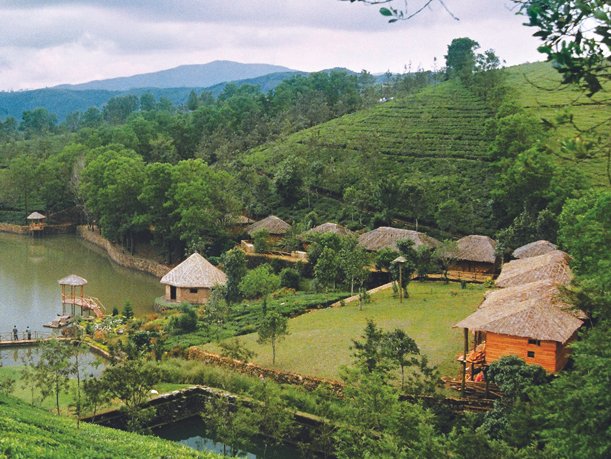 Hotel Photos
Rooms: 0
Hotel Class: Premium
Facilities:

| | |
| --- | --- |
| –› | Indoor sports |
| –› | Fishing |
| –› | Conference Hall |
| –› | Ayurvedic spa |
| –› | Nature Walks |
| –› | Nature Walks |

Hotel Info: SAJ Vagamon Hideout is located in Vagamon, Kerala, India. It is one hour away from Kottayam town, and about 3000 feet above sea level up the majestic Western Ghats. It is known for its salubrious climate year round; Vagamon is carpeted in misty meadows, gurgling rivulets, and tea gardens bordered by forests. A lazy, slow, sleepy town devoid of the rush and bustle of a tourist destination. Vagamons essential laid back atmosphere characterizes the SAJ Vagamon Hideout, a resort unique on its own."Vagamon" is only accessible by road as there is no Air or Rail link to this small hamlet.Cochin International Airport is 100 kilometers away and the nearest Railway Station is at "Kottayam" district which is having a distance of 70 kilometers. Built by using only natural elements of mud & stone following traditional architectural techniques, the independent cottages in Saj Vagamon Hideout Resort is spread around a placid lake, covering an extent of 30 acres of land. This eco friendly resort is resplendent with a tea estate, vegetable farm, natural brooks, streams and many varieties of berry bearing shrubs within its ambit.The climate throughout the year is somewhat steady at Vagamon, where the mercury never climbs up or down to extremes. This phenomenon provides a natural air-conditioning effect to the entire environment and obliterates the need for using artificial air-conditioners altogether.Yet the rains are mighty during its seasons and the accompanying winds can be scary at times.. Many of us believe that we will not be able to survive without modern amenities, even for a day. To help you stay close to nature and not to disturb its rhythm, they are not employing many of the modern day essentials like Television Sets, Electric Calling Bells etc in this property. This is a very private location of peaceful hideaway somewhat remote, with a few neighbors. The main home is not visible from the road. With its vast extent it feels like copious acres of endless adventure opportunities and engages in the dwellers of a time warp.The Right of Entry to the property is only for pre-booked guests. At all other times the No walk-in guests are given entry to the property and no services including that of Restaurant is accessible to outsiders. Your privacy and security are completely safeguarded. Please note that we are not offering in-room dinging (room service) except for Bed Coffee.