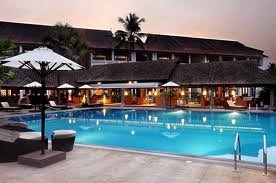 Hotel Photos
Rooms: 63
Hotel Class: Four Star
Facilities:

| | |
| --- | --- |
| –› | Gymnasium |
| –› | Restaurant |
| –› | Bar |
| –› | Room Service |
| –› | Coffee shop |
| –› | Business Center |
| –› | Swimming pool |

Hotel Info: Vasundhara Sarover Premiere, Vayalar, Alleppey, Kerala , India is located in a quiet village area 5 kms from the highway (NH 47). Cherthala station is 15 mins from here cochin airport is an hour drive only. The experience in the resort is just immaculate - right from the magnificent design themes, spacious and immaculately maintained rooms, lavish lawns, swimming pool, floating villas, and a luxury houseboat to top it all. The story of Kerala unfolds before you at Vasundhara Sarover Premiere, Vayalar, Alleppey, Kerala India - the moment you step into the reception. On the resplendent walls you see vivid murals inspired by temple art, telling fantastic tales of heroes and legends. You run your hands over carved woodwork reminiscent of old Kerala homes, reinterpreted in rooms and outside spaces. And as you wander through the resort, you encounter imagery that reveals the curious and fascinating street and popular culture of the state. At the same time, the alluring design and ultimate comfort of rooms connect in new and old ways with the spirit of Kerala. Lush gardens, beautifully landscaped, intersect with calm water bodies, bringing you in touch with the pristine stream of nature. Delicious cuisine tingles your taste buds with spicy Kerala dishes, fresh seafood or international menus. Staying at Vasundhara is a sublime engagement with luxury living. In each of our 60 rooms, heritage motifs meld with contemporary design in room architecture and furnishings, conjuring a new perspective on hospitality and on Kerala. Feel indulged with beautifully appointed rooms, bathrooms, and a host of amenities at your fingertips.Cool breezes and a glorious view of the waterfront present you with your very own slice of Gods Own Country.