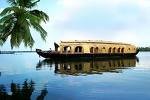 A leisure cruise along the palm-fringed backwaters of Kerala in a luxury houseboat is the most enchanting holiday experience among travellers today.The boat ride takes you past ancient Chinese fishing nets, water lilies, lush paddy fields, coir villages, rustic homes, ancient temples and coconut groves.The "kettuvallams" come with all modern comforts and services that include well furnished rooms and cabin crew at your service.

Houseboats are huge, slow moving, exotic barges designed for sheer leisure trips. Formerly, houseboats were used to ship rice, spices and other goods between Kuttanad and the Cochin port. It was a three-day affair those days. A standard houseboat, which could be about 100 feet long, can hold up to 30 tons, and that is as much as three big lorries can.

A houseboat which is made of hundreds of fine but heavy-duty planks of jack-wood is held together absolutely by coir knots, the speciality being that not a single nail is used. Kettu means knot in the local parlance and Vallam is boat. This framework is then coated with a caustic black resin extracted from boiled cashew kernels. And it lasts for generations.