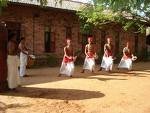 Kerala is a haven for the lover of dance, drama and music and festivals.You have scores of art forms, which are quite unique in nature to Kerala, like Kathakali, Ottamthullal, Chakyar Koothu,Krishnanattam,Koodiyattam,Padayani,Kalaripayattu, Pavakathakali, Theyyam, Velakali, Thiruvathirakali, Kolkali, etc.These art forms help one to experience a gamut of varied emotions ranging from passion, love, kindness, compassion to mirth, joy, sorrow, grief,and from anger, wonder, horror to fear, valour, courage etc.

Kerala is home to a stunningly unique variety of art forms which have impacted the social and cultural life of the state,adding to its typical character.Kathakali is the most popular art form in which the entire body is used to portray a story. The Kathakali artistes wear elaborate costumes, ornaments and facial make-up.Mohiniyattam, the dance of the enchantress is one highlighting feminine grace while Kalaripayattu is an amazing martial art which is said to be the originator of karate,judo and kungfu.


Kerala is also distinctly famous for its other art forms like music and poetry as well as craft forms including murals, sculpture and architecture. The rich and vibrant culture of Kerala has been continuing to intrigue people worldwide. The traditional classic and folk songs and dances of the people, their ballads, their rituals and their intellectual pursuits form the real treasures of Kerala contributing to its rich cultural heritage.


Keralas art forms reflect the life and outlook of its people. Whether it is the renowned Kathakali, considered to be the complete art form as its synthesises all that is best in the fields of drama, music and dance, or the folk dances which are reflections of the rhythmic impulses of a sensitive group of people,the treasure house of Keralas art forms is a feast for travellers and art lovers worldwide.